Welcome to the Ellis Farm Labrador Retrievers website.



We are located in the countryside of Southern Ontario, north of Toronto, and close to the communities of Alliston, Beeton, Tottenham, Cookstown, Bradford, Barrie, Newmarket, Bond Head, Schomberg, Nobleton and Bolton.

We breed English Yellow Labrador Retrievers. Our puppies are ideal companions for adults and children alike.

Our dogs are not kept in outdoor kennels, but are important members of our family. All of our puppies are carefully raised to be happy in a setting which includes children, dogs, and occassional visits from cats. From their earliest beginnings, pups are exposed to a host of normal household noises such as vacuums, dish washers, coffee grinders and washing machines, all aimed at easing their transition from our home to yours. By the time our puppies go home, they have also been introduced to the outdoors as the appropriate place to relieve themselves which should help speed up the process of house breaking.

Yellow Labradors have become very popular over the last few decades and, should you be interested in more information, please email or call us and we will be more than happy to be of help.



We welcomed our latest litter on September 30,2022 from our girl 'Rosie'. For those who have the interest and the commitment to add a new member to their family, please feel free to contact us and have a chat.




Pups at 3 weeks and getting adventurous!




All of our labs are registered with the Canadian Kennel Club.
Our two current Moms and our precocious teenager!

ELLIS FARM RINGAROUND THE ROSIE
Born: April 25, 2017
Sire: WILSON CREEK BAER AT COOPERSLANE
Dam: ELLIS FARM BOUNTIFUL BREEZE
ELLIS FARM LADY ALEXI
Born: April 19, 2018
Sire: BELQUEST SAWYER'S HOME AT COOPERSLANE
Dam: ELLIS FARM CLASSY KAHLUA N ICE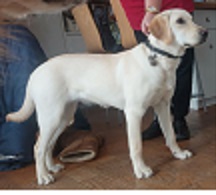 ELLIS FARMS ADORABLE ANNIKA

Born: July 15, 2021
Sire: MAPLELANES'S SOUTHPAW
Dam: ELLIS FARM RINGAROUND THE ROSIE



Ellis Farm
Labrador Retrievers

4615 10th Line
Beeton, ON L0G 1A0

Peter:705-458-4852
Patti: 905-724-0506